MAGAZINE
Device converter
Weather
Classified ads
Recently added
Culture
The new faces of French Cinema: eight actresses to keep your eye on
Some are at the very beginning of a promising career, others already have a number of stunning films under their belt… We have identified eight French actresses that stand out from the crowd for their talent and sudden arrival on the silver screens. They all incarnate the new faces of French cinema, its succession and its future: Marine Vacth, Lou de Laâge, Alice Isaaz, Adèle Exarchopoulos, Adèle Haenel, Mélanie Bernier, Pauline Burlet and Ana Girardot.
Marina Vacth
You certainly cannot miss this young 24 year-old actress: since her performance in Young and Beautiful, by Philippe Ozon, Marine Vacth has been a real eye-catcher. Enigmatic, magnetic, she is simply fascinating – the beautiful brunette is the face of Parisienne, the perfume from Yves Saint Laurent, the brand Chloé, and the jewellery brand Chaumet.
In 2011, Cedric Klapisch notices her for his movie Ma Part du gateau; on screen with Gilles Lellouche, the young artist becomes known and gets several supporting roles. But François Ozon is the one who really launches her in 2013 with Young and Beautiful. The reviews are unanimous; Marine Vacth is THE discovery of French cinema.
Lou de Laâge in 'Jappeloup'
Some say she is the new Brigitte Bardot… Lou de Laâge combines perfect charm and simplicity. In 2013, she is a huge success in Jappeloup, playing opposite Guillaume Canet. In the role of Raphaelle, she dazzles the audience.
A month later, she is back on the silver screen, alongside Kad Merad, Monica Bellucci – no less! – in Des gens qui s'embrassent. Lou de Laâge is stunning, full of freshness and feminity. She made her debut in 2011 with Pierre Niney in J'aime regarder les filles. The same year, the actress played in Nino une adolescence imaginaire de Nino Ferrer... a hit. Lou de Laâge will be back this November in Respire, the new film of Mélanie Laurent. We are all waiting impatiently!
Alice Isaaz in 'La crème de la crème'
Alice Isaaz is a talent that must be followed: at only 23, the young actress appears in many mainstream French films. The most recent one was in April 2014, Les Yeux Jaunes des Crocodiles, and what a piece of casting! The actress splendidly takes on the role of Hortense, Julie Depardieu's daughter, alongside Patrick Bruel, Emmanuelle Béart...
Alice was noticed on the small screen: after the Cours Florent (school of acting), the young artist obtains a few TV roles, in 2011. The year after, she begins in the cinema, in La cage dorée, with Chantal Libaud or Roland Giraud, a real success. In 2014, she plays in Fiston, where Kev Adams has eyes for her, then in La crème de la crème, of Kim Chapiron. She will be back soon in the TV film L'héritière. Brilliant!
If we are to believe the anecdote, a lemon pie did change Adèle's life: Abdellatif Khechiche chose her for the main part of his movie after he saw her devour a piece of tart. Presented at the Cannes festival in 2013, Blue is the warmest colour is a hit: the film wins the Palme d'or… which is also awarded to the young actress for her performance, and to Léa Seydoux, her partner in the movie. Remarkable!
Adèle Exarchopoulos and Léa Seydoux
Adèle Exarchopoulos started acting at 8 years old. In 2006, she makes her debut in Jane Birkin's movie, Boxes. Until she met Abdellatif Khechiche, the young woman goes on collecting small roles… And in 2014, at only 19 years old, she wins the Cesar for Best Female Newcomer. An artist to follow closely.
Adèle Haenel 2014… a grand cru! The 25-year-old actress won the Cesar for Best Actress for her role in Suzanne at the Cannes Festival in May, and her last film Love at First Fight has brought the house down since its release last August.
Adèle Haenel in 'Love at First Fight
She really came to the attention of the general public in La Naissance des pieuvres by Céline Sciamma. Her performance earned her a nomination for the 2008 César awards. But the young artist chose to continue her studies: she integrated a foundation class and a Business school. In 2010, she came back in L'Apollonide – souvenirs de la maison close, and obtained the "Prix Lumière" for best female newcomer. The following year, Adèle Haenel shares the bill of Les Confessions d'un enfant du siècle, with Pete Doherty and Charlotte Gainsbourg. Her talent is acknowledge by all.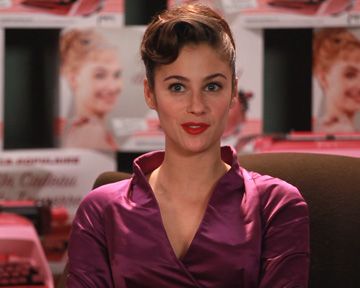 Mélanie Bernier in 'Populaire'
Mélanie Bernier, a new face in the French cinema landscape… Sparkling, sensual, she knows everything there is to know about comedy. The young actress is currently in the play Un temps de chien, with Valérie Lemercier, a hit. But Melanie Bernier is not just delightful on stage.
Cinemagoers rightly noticed her in Populaire in 2012, alongside Romain Duris and Déborah François. The same year, this young woman played with Bérénice Bejo and Raphael Personnaz in Aux Bonheur des Ogres. In 2013, she appears next to Gilles Lellouche, in Gibraltar. Lately, in Les Gamins with Alain Chabat and Max Boublil, the actress once again charmed the public. Mélanie Bernier embodies both grace and whim… Look forward to her next appearances on the screen – especially in Machin Machine with Clovis Cornillac and Nos Futurs with Pio Marmai.
Pauline Burlet in 'The Past'
Be sure to remember the name of this young 18-year-old Belgian woman; Pauline Burlet is a rising star of the French cinema. She blew people away with her performance in The Past. In the role of Lucie, Bérénice Bejo's daughter, the actress was hugely impressive and was nominated for the most promising actress Cesar 2014.
It all started when she was 8. First role on the silver screen, and not any role… Pauline plays Edith Piaf as a child, in La Vie en rose. A few years later, she is back, spicy, irresistible in Dead Man Talking, alongside Patrick Ridremont. Then comes The Past, in which the actress brings the house down. Next December, she is sharing the bill of La French, with Jean Dujardin and Gilles Lellouche. "On n'est pas sérieux quand on a 18 ans…" Well Pauline Burlet is!
Ana Girardot in 'Amitiés Sincères'
Ana Girardot gets more famous day by day. The actress is currently playing in Le Beau Monde, in the role of Alice. She excels, combining force and sensibility. The 26 year-old young woman has already largely proven her worth. Would success be a family matter?
In 2010, the actress is discovered in Simon Werner a disparu. Two years later, she plays Claude François' wife in Cloclo. In 2013, Ana shares the bill with Gérard Lanvin in Amitiés sincères. This year, she decided to go on stage, in a modern adaptation of Romeo and Juliet. Next rendez-vous in November, in Next Time I'll Aim for the Heart with Guillaume Canet. Yummy!
You may also want to read about last year's rankings: French male and female newcomers.
Zone Tag
London Fashion Week, londres, londres, Tom McCarthy, Amarcord, Francais, Matthieu Kassovitz, Sous-vêtements, Règles, livre, Gabrielle, film, Droit, Immobilier, europafood.xb, livre, Vacances, Charlotte Gainsbourg, london, Crème, oscar 2008, robes, vin, osteopathie,